A-Pix is bringing you Stranger Than Fiction on February 15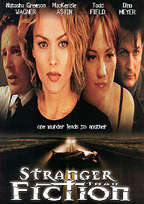 A-Pix Entertainment will release Stranger Than Fiction on DVD, distributed by Image Entertainment. This film, starring Dina Meyer, Natasha Gregson Wagner, MacKenzie Astin and Todd Field, is a dark, yet humorous thriller with some interesting plot twists.
Strange events spiral out of control in one surreal night for four best friends. One killing becomes an accidental double and murder doesn't seem like a crime when a third victim gets in their way. With a car trunk full of corpses, they need a better plan to save their own hides.
Sounds interesting? Then look out for this DVD when it arrives day and date on February 15.