We have the cover of Disney's animated Tarzan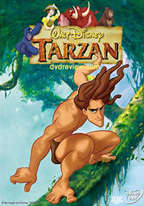 Highly anticipated, Walt Disney's Tarzan will be the frist day & date release of an animated feature film from the Mouse House, and we are once again able to present you the cover of this upcoming DVD.
The disc is scheduled for release on February 1, 2000 and will feature a number of extras, including a never-before-seen recording session by Phil Collins and guests, a Read-Along, a Trivia Game, various sneak peeks and many other features, as well as DVD-ROM accessible Internet links, as we had reported earlier. "Tarzan" will carry a suggested retail price of $39.99, just like Disney's other animated feature films.
In addition to the standard DVD, a Tarzan Collector's Edition DVD, will also premiere on April 18, carrying a suggested retail price of $49.99. It will include an additional audio commentary by the movie's creators, Producer Bonnie Arnold and Co-Directors Kevin Lima and Chris Buck, and extensive bonus materials about the history and development of the film, including early presentation reels. Both discs will contain anamorphic video transfers.
Please check out Film Vault for exact details on these and thousands of other releases.