We have some menu screens from next week's Austin Powers for you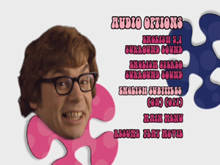 Next week will see the release of New Line's super-groovy special edition of Austin Powers: The Spy Who Shagged Me. The disc is loaded with extras, including 20 minutes of deleted scenes, a commentary track with Mike Myers, a behind-the-scenes documentary, music videos, trailers, screensavers, trivia information, interactive games and much more.
While we are working on the review for this release, here is a look at some of the disc's menus. Please click here or on the image to the left for a better look at a selection of these screenshots.