We have some menu screens from Columbia's 7th Voyage Of Sinbad for you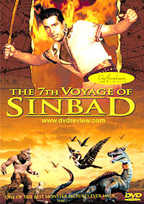 Eagerly anticipated, the Ray Harryhausen masterpiece The 7th Voyage Of Sinbad is finally coming to DVD by the end of this month through Columbia TriStar Home Video. This spectacular fantasy adventure from "1001 Arabian Nights" will take you into an enchanting world where cyclopses and dragons are as real as the men who fight them.
Not only does the disc contain a spectacular 16×9 enhanced transfer of the movie, but als interviews with Ray Harryhausen, and a one-hour documentary called the "Ray Harryhausen Chronicles".
To make the wait a little shorter for you, we are able to present you screenshots of some of the disc's menus. Hopefully this will give you a taste for the treat Columbia TriStar Home Video is preparing for you.
Please click here, or on the image to the left for a look at a selection of menu screens from this classic movie.