We have more details on the release of Nautilus in January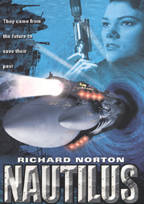 MTI Home Video is releaseing Nautilus directly to video and DVD on January 18. The film stars an all-action cast, consisting of Richard Norton, Miranda Wolfe and Hannes Jaenicke. The DVD will come in a foil-engraved, holographic packaging at a suggested retail price of $24.98.
"Nautilus" takes you to the year 2100. A hundred years earlier, a cataclysmic chain of events plummeted Earth into the Dark Ages. On a death defying mission, a highly trained team in a futuristic submarine heads for the year 1997 to change the event that led to Earth's destruction in the hope of saving their future.