Universal has more DTS / Dolby Digital combi-titles in the making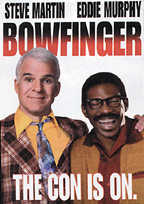 As we had reportedly earlier, Universal Home Video is releasing the Samuel L. Jackson starrer The Red Violin on December 14 with a DTS and a 5.1 Dolby Digital soundtrack on the same disc.
Now we have been able to find out that Universal will also be releasing two more DVDs with that feature. The first one is the Brendan Fraser comedy Duddley Do-Right on December 28. Apart from the two soundtracks, the disc will also contain a fullframe and a 16×9 enhanced widescreen transfer of the movie.
Then on January 18, we will see the Eddie Murphy and Steve Martin collaboration Bowfinger, also with combined DTS and 5.1 channel Dolby Digital soundtracks on the same disc.
It seems as if Universal Home Video is starting to bolster up mostly its day & date releases with the dual-soundtrack option, which makes sense, because most of these titles contain only limited extras anyway, so that the additional soundtrack doesn't eat away space for valuable supplements.