Trimark announces Natural Born Killers for release on DVD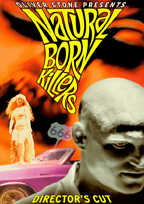 Trimark Home Video just announced that it will release the Director's Cut of Oliver Stone's controversial film Natural Born Killers starring Woody Harrelson and Juliette Lewis on DVD on January 25. This version of the film includes additional footage that were deemed inappropriate for an R-Rating by the MPAA as well as a number of deleted scenes featuring Ashley Judd and Dennis Leary, and an alternate ending. The film had originally received 150 cuts in order to achieve the MPAA R-Rating for its theatrical release in 1994.
Director Oliver Stone himself mentions that the theatrical version of the film was not the real version, and that the Director's Cut on this upcoming DVD is the film the way he intended it to be. "Natural Born Killers" will contain a commentary track by director Oliver Stone and come with a 5.1 channel Dolby Digital audio track, subtitled in English, French and Spanish.
The disc will carry a suggested retail price of $29.99 and will be available on January 25, 2000.