The romantic comedy Relax… It's Just Sex is coming to DVD through A-Pix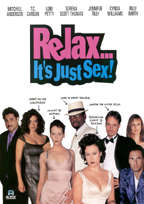 We have just received some information on another DVD title coming from A-Pix on January 11. Scheduled as a day and date release with VHS, Relax… It's Just Sex is a romantic comedy starring Jennifer Tilly, Lori Petty, Cynda Williams and Semour Cassel.
It tells the story of a group of eccentric friends that centers around Vincey, a struggling gay playwright on the lookout for a life partner. Tara, the sexy resident den mother, is preoccupied with having a child with her boyfriend, Gus, who's not sure he wants to settle down just yet. Longtime lesbian couple Sarina and Megan are in the midst of a break-up when Robin enters the picture and offers Sabrina a chance for real love. When the whole gang reunites at a dinner party, heated discussions are part of the menu.
"Relax… It's Just Sex" will be released in a 16×9 enhanced widescreen transfer with a 5.1 channel Dolby Digital soundtrack. It will also contain Spanish subtitles, trailers and selected outtakes.