Take a look at The Thomas Crown Affair from MGM with us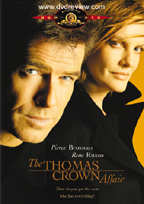 On January 4, billionaire and criminal mastermind Thomas Crown will once again thrill himself with a coup extraordinaire. MGM Home Entertainment will release The Thomas Crown Affair, starring Pierce Brosnan, Rene Russo, Faye Dunaway and Denis Leary on DVD.
Directed by John McTiernan, the film is a racy action thriller, in which billionaire Thomas Crown loves nothing more than courting disaster and winning! So when his world becomes too stiflingly "safe," he pulls off his boldest stunt ever: stealing a priceless painting in broad daylight from one of Manhattan's most heavily guarded museums. But his post heist excitement soon pales beside an even greater challenge: Catherine Banning.
A beautiful insurance investigator hired to retrieve the artwork; Catherine's every bit as intelligent, cunning and hungry for adventure as he is. And just when Thomas realizes he's met his match, she skillfully leads him into a daring game of cat and mouse that's more intoxicating and dangerous than anything either of them has ever experienced before!
The DVD will contain a commentary track by director John McTiernan and carry a suggested retail price of $24.98. Please click on the image to the left for an enlargement of the disc's cover artwork.