Take a look at the menus from Universal's upcoming Notting Hill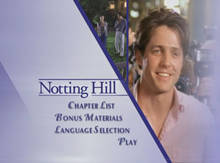 Next week, Universal Home Video will release the romatic comedy Notting Hill on DVD. Julia Roberts and Hugh Grant play lover that come from backgrounds as they could not be more different.
Plenty of laughs, plenty of romance, and a look at the life in the spotlight of Papparazzi and the public eye give "Notting Hill" an entertaining spark.
We have sampeld some menus from the disc for you, so please click here or on the image to the left for a closer look at these different menu screen.