Take a look at the menu screens from Warner's upcoming Wild Wild West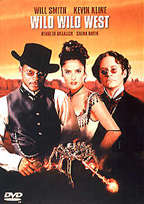 On November 30, Warner Home Video will release the Will Smith and Kevin Kline comedy Wild Wild West on DVD. The disc contains an arsenal of special features, including various documentaries, music videos by Will Smith and Enrique Iglesias, a commentary track with director Barry Sonnenfeld, still galleries and more.
The release will also boast a number of hot DVD-ROM supplements, ranging from interactive games to behind-the-scenes clips, essays, trailers and much, much more. It's definitely a disc that will take a some time to fully explore.
Today already we are able to present you a selection of menu screens from this exciting release for your viewing pleasure. Please click here or on the image to the left for a closer look at this fine selection of menu screens form "Wild Wild West".