Take a look at some upcoming titles from Anchor Bay Entertainment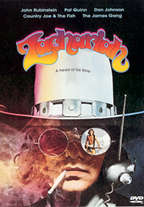 We have just received a number of covers from Anchor Bay Entertainment's release line-up, and we're proud to give you an exclusive early look at some of these upcoming titles. Please click here or on the image to the left for a look at Werner Herzog's acclaimed 1969 film Even Dwarves Started Small, a shocking movie whose influence can today still be seen in films by filmmakers like David Lynch nad Harmony Korine. The disc will contains a commentary track by director Werner Herzog.
We can also give you a look at Zachariah, Smashing Time and The Killing Of Sister George.
Another highlight is scheduled for release in February by Anchor Bay, Train Ride To Hollywood. It is the 1975 HELP-like musical comedy featuring the 70s rock/R&B sensatrion "Bloodstone". The disc will contain a commentary track with Bloodstone and executive producer George Braunstein.
Of course we will bring you more of these cover artworks as they become available.