Sensory Sciene introduces powerful DVD player and amplifier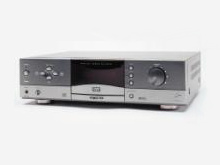 Sensory Science Corporation is now shipping its new Power3 DVD home theater system to retailers throughout North America. Carrying the Go Video(TM) brand, the Power3 DVD combines a high resolution DVD player with a 200-watt linear class A/B amplifier and Dolby Digital® 5.1 channel decoder.
This all-in-one solution eliminates the need to buy a separate amplifier and decoder. The company's new Power3 DVD combination processor/amplifier offers complete versatility to play DVD video, CD audio and CD video, and delivers 40-watts to five different channels. The Power3 DVD provides a quality, multi-channel audio/video experience in an easy-to-install, easy-to-operate, single chassis configuration, in relatively the same size as a standard DVD player.
The Power3 DVD sports a 10-bit video digital to analog converter and a 27MHz advanced digital filter, providing 400% better accuracy than conventional 8-bit, 13.5 MHz systems, enabling the delivery of crystal clear and artifact-free video. Composite and S-video outputs ensure maximum connectivity, resolution and clarity with a variety of televisions or display devices, while the graphical interface provides a user-friendly experience.
The Power3 DVD also features the ability to process and play 96 KHz/24-bit digital audio and employs Dolby Pro Logic(TM) technology that enables users to create specific three-dimensional sound fields whether they use 2, 3, 5 or 6 speaker combinations. Additional features include a Dolby Digital 5.1 channel decoder, as well as a separate dedicated audio power supply for high performance and noise immunity. The player also allows users to connect up to two additional devices, such as a VCR, to take advantage of the built-in surround sound system. Other features include parental control, 2X and 4X zoom capability, 4:3 and 16:9 compatibility, and on-screen programming in six different languages, in addition to traditional DVD and CD features. The Power3 is available now at a suggested retail price of $499.