More Buena Vista titles for release in January 2000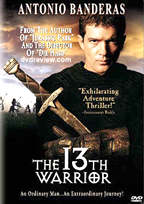 We have just received some information about another series of DVD titles coming from Buena Vista in January 2000. As we had told you, the previous list was far from being complete…
A Criterion Collection version of Rushmore is scheduled for release in January. Reportedly, Criterion is working closely with director Wes Anderson, actor Jason Schwartzman, and co-writer Owen Wilson on this release for interviews. There will also be an exclusive behind-the-scenes documentary on the making of the film.
Also coming in January are A Price Above Rubies, Sister Act II, Mad Love, Encino Man, Adventures in Babysitting and The House of Yes. Some of these titles like "Encino Man" and "The House Of Yes" are hold-overs from this year that had been originally scheduled but later postponed. No exact release dates on these titles are available at this point.
We do have release dates for the titles we mentioned last week however. The 13th Warrior is scheduled for release on January 18, as is From Dusk Till Dawn 3: The Hangman's Daughter.My Son The Fanatic and My Life So Far are scheduled for release on January 25. All four titles will be presented in letterboxed versions with 5.1 channel Dolby Digital soundtracks.