Godzilla and Mothra are ready to battle it out in your living room in February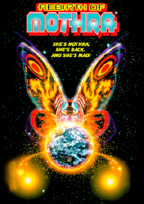 We have just received some information on Columbia TriStar Home Video's February line-up, which includes some long awaited fan favorites with monstrous proportions. Yes, Godzilla is back! On February 1, Columbia TriStar is releasing Godzilla vs. Destroyah, as well as The Rebirth of Mothra 1 & 2 Both Mothra films will be presented in widescreen on this double-feature release on one disc, in which Mothra battles Death Ghidra and a giant underwater monster.
Other titles scheduled for release on February 1 is To Sir With Love and Persuasion.
Another highlight is coming on February 15, Alan Parker's Birdy, the story of two friends who return from Viet Nam, scarred in different ways. Nicholas Cage has physical injuries, while Matthew Modine's problems are mental. Having always been obsessed with birds, he now thinks he is one. Also coming on February 15 ar Born Yesterday and Grey Owl
And then, day and date with its VHS release, Columbia has set Bats for release on DVD on February 22. The film about a government experiment gone wrong will also contain a featurette, bloopers and conceptual drawings from the film.
Make sure to stop by and take a look at all the details in our Release Schedule database later in the day when we have added all these exciting new titles.