Central Park Media brings Urotsukidoji, Japanese animation for adults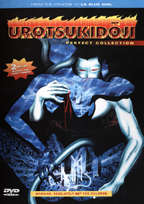 Central Park Media has scheduled the release of the Urotsukidoji Perfect Collection for release on DVD-ROM for January 18. This erotic horror film in the Japanese Anime style runs 250 minutes and will come in its original Japanese language with English subtitles.
According to legend, every 3, 000 years, the three realms of demons, humans, and man-beasts are united by the revival of a being more powerful than them all—and the coming of this Overfiend means chaos and destruction!
Determined to find the Overfiend, demons scour the human world for signs of his coming. Two such creatures, Amano Jyaku and his sister Megumi have tracked the Overfiend to an unlikely place, Myojin University in Japan. Here, two 19-year-old college students, Tatsuo Nagumo and Akemi Ito are unwittingly drawn into the hunt… and after a night of horrific revelations, their lives will be forever changed!
Carrying a suggested retail price of $59.95, "Urotsukidoji" contains Internet Links, DVD Sneak Peeks, Promotional Trailers, Comics, plenty of nudity and sex.