A-Pix breathes some fine supplements into Oxygen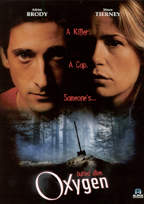 A-Pix Entertainment just sent some additional information regarding their upcoming release of our way. The thriller will street on January 11, day and date on VHS and DVD, and the DVD version will contain quite a few supplements.
On one of the hottest days of the year, in one of Manhattan's most stylish neighborhoods, a wealthy woman is kidnapped in broad daylight. Her kidnapper, the ever charming sociopath Harry brings her deep into the woods of upstate New York, where he proceeds to carry out his master plan… he is going to bury her alive for ransom. With only 24 hours of air, the police, led by troubled detective Madeline Foster, must use every trick in the book to outwit the clever kidnapper and find the buried woman before time – and oxygen – run out.
"Oxygen" will come in a 16×9 enhanced widescreen version with a 5.1 channel Dolby Digital soundtrack and also contains Spanish subtitles. The disc will also contain trailers, a full-length audio commentary by director Richard Shepard and the film's stars Maura Tierney and Adrien Brody. Further a Shot-by-shot audio commentary with storyboard visuals of the car chase scene will also be part of the release.