A first look at the unrated version of Universal's outrageous American Pie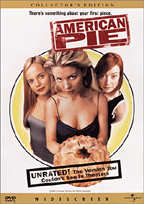 On December 21, Universal Home Video will release two separate versions of their sleeper hit American Pie. One of them will be the theatrical cut of the movie, while the other one will be a new unrated version.
So, what's the difference between these films? We have been able to get some exclusive early scoop on the differences of these versions and Mike Long has prepared his findings in a tasty article.
Please click here or on the image to the left to learn everything about the new version of this romantic comedy and its gross-out humor, but be forwarned, it is a little sexually loaded… like you care.