A big bad alligator is coming to Lake Placid and DVD in January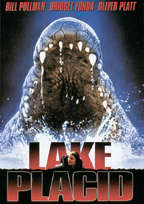 As we had reported in our release announcements a little earlier, 20th Century Fox Home Entertainment is unleashing this summer's monster to DVD, day & date with the VHS release on January 11. Lake Placid is starring Bridget fonda, Bill Pullman and Oliver Platt.
When a man is eaten alive by an unknown creature, the local Game Warden teams up with a paleontologist from New York to find the beast. Add to the mix an eccentric philanthropist with a penchant for "Crocs", and here we go! This quiet, remote lake is suddenly the focus of an intense search for a crocodile with a taste for live animals…and people!
Also coming on January 18 from 20th Century Fox Home Entertainment are French Kiss, Great Expectations, One Fine Day and Picture Perfect.