20th Century Fox battles it out in April – Fight Club and other titles scheduled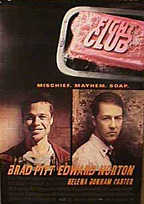 We have just received some information on a number of upcoming titles for release from 20th Century Fox Home Video. Since these titles are still some way in the future, these title announcements are tentative and some of the details may change until the discs' final releases.
On April 18 we will see the day and date debut of Fight Club in a widescreen version that includes quite a number of supplements. Commentary tracks featuring director David Fincher, Brad Pitt, and the Dust Brothers, John King and Michael Simpson, who wrote the music to this movie, as well as outtakes and deleted scenes. The release will also contain a still gallery of the film's set design, another still gallery for the costumes and a Production Still gallery. On top of these extras, the disc will also contain a "Making of Fight Club" documentary and original trailers, priced at $39.98.
Before this raging battle of the fists however, we will see a number of other titles from Fox's March line-up.How Green Was My Valley, An Affair to Remember and Love Is A Many Splendored Thing will all make their DVD debut on March 7, and March 14 will see the release of Drive Me Crazy, including the movie's original trailer and TV spots.
The "Fight Club" release schedule of April 18 also includes another series of interesting titles. Anywhere But Here will make its way to retail at $34.98, including Trailer, TV Spots and a Featurette. Walking With Dinosaurs, narrated by Kenneth Branagh, will come as a 2-disc boxset at $34.98 and will include 24 minutes of deleted scenes and a 50-minute documentary.