We have the menu screens for Disney's Mulan and Pinocchio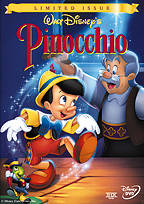 By the end of this month the first of the animated classics from Disney will make its debut on DVD, Pinocchio. The release will soon be followed by three other animated classic feature films from the Disney Vaults, Mulan, Hercules and 101 Dalmatians.
Today we are able to present you menu screens from "Pinocchio" and "Mulan". Please click on the image to the left, for a look at these menu screens, or click here for a look at the Mulan screenshots, or click here for the menu screens from Pinocchio.
If you want to find out more about these titles and all the other upcoming releases from Disney, please stop by our Film Vault where we treasure the details for all DVDs for you for easy and quick access in our extensive database.