We have some menus shots and the cover for Wild Wild West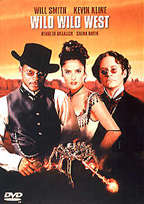 We have just received the cover artwork for Warner Home Video's upcoming Wild Wild West that will find its way to stores on November 30. We have also been able to get some screenshots of the disc's menus for you so that you can get a feel for the disc's presentation.
"Wild Wild West" is a fast-paced adventure that mixes comedic wit, retro science fiction and hip-hip savoir-faire, starring Will Smith, Kevin Kline and Salma Hayek.
Priced at $24.98, the DVD will contain a number of supplements, including a 30-minute behind-the-scenes documentary and a full-length audio commentary track by director/producer Barry Sonnenfeld. But you will also be able to find Enrique Iglesias" music video for his hit single "Bailamos" on the disc, as well as Will Smith's #1 hit video "Wild Wild West", with a dedicated making-of-the-music-video documentary.
Please click on the image to the left for an enlargement of the disc's cover artwork. Click here for the disc's Special Features menu, or click here for a look at the Cast & Crew Menu from the release.