We have some menu screens from Universal's The Wolf Man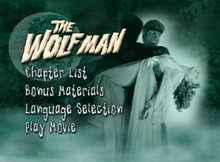 As this week sees the release of Universal's classic The Bride Of Frankenstein, all our eyes are already set on the next big Monster Classic Collection release from Universal Home Video. Today we are able to give you a good look at the upcoming The Wolf Man with menus that are very atmospheric and nicely reflect the gothic atmosphere of the film itself.
As all the other monster releases, this one features a documentary by film historian David J. Skal, fittingly hosted by John Landis who created an outstanding werewolf feature film himself in "An American Werewolf In London". The disc also features a commentary track by Tom Weaver and an extensive photo gallery.
Please click here or on the image to the left for a look at a selection of those menu screens that we have prepared for you.