We got an exclusive scoop on Buena Vista's January 2000 titles for you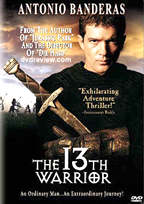 We have just got some information on Buena Vista Home Entertainment's January DVD line-up. Although no streetdates and details are currently available, we wanted to let you know what titles to expect from the studio in the New Year.
The 13th Warrior starring Antonio Banderas is coming, as well as An Ideal Husband, a witty comedy starring Cate Blanchett, Minnie Driver and Julianne Moore. My Life So Far is also on the list, another romantic comedy starring Mary Elizabeth Mastrantonio and Malcolm McDowell. Buena Vista has also scheduled From Dusk Till Dawn 3: The Hangman's Daughter for release in January, as well as My Son The Fanatic
We also have the cover artworks for some of these titles ready for your viewing pleasure together with two additional covers from their December slate, so please click here or on the image to the left for a closer look at them.
Certainly this is not the entire January line-up from Buena Vista Home entertainment for January, so we are sure that we will see more announcements in the days to come. Please check back often for more details and additional titles.