Take a look at the menu screens from Saving Private Ryan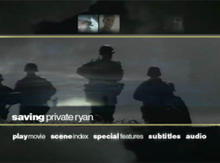 On November 2, Dreamworks Home Video will finally release Steven Spielberg's Saving Private Ryan on DVD. This particular disc is anticipated with the highest expectations and while we are preparing an in-depth review of the film and the disc for you, we are able to give you a look at the menu screens from this remarkable release.
We have prepared a selection of these menu screens on this separate page for your viewing pleasure, so make sure to stop by and see for your self how once again, Dreamworks has managed to create menu screens that perfectly match the film's presentation and feel.
We also have scans of the release's packaging art and the inlay with some production notes for you. Please click here for an up-close look at the cover and back of the box, and click here for the inlay with production notes. We hope it will make the wait a little easier.