Take a good look at the Bride Of Frankenstein with us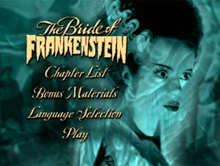 The next installment in Universal's Classic Monster Collection just arrived, Bride Of Frankenstein. Ranking as James Whale's ulitimate masterpiece, this film brings us Boris Karloff in an encore as the Frankenstein creature and Elsa Lanchester as his titular bride.
We have prepared a few screenshots of the disc's menu's for your viewing please. Please click here or on the image to the left to take a look out our selection. As you can see frm these menus, the disc will contain a commentary track by film historian Scott MacQueen, a new original documentary called "She's Alive!" by David J. Skaln and a "Bride Of Frankenstein" Archive apart from the trailer Productionn Notes and biographies.
"Bride Of Frankenstein" comes to DVD on October 19 as the third Universal Classic Monster collection for $29.98. Don't miss this phenomenal film!