Space Ace gets a long awaited fix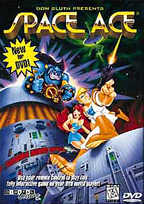 Digital Leisure, the company behind DVD releases like Dragon's Lair and Space Ace just informed us that Toshiba has finally addressed the problems in their 2109 and 3109 models that stopped "Space Ace" from working. Apparently all units shipped beginning in the summer have the new firmware. Customers with older versions of these model players can contact Toshiba and have their unit updated to the new firmware. Unfortunately this upgrade still requires the unit to be physically sent to Toshiba. You can reach Toshiba at 1-800-631-3811 for more information on firmware upgrades.
Digital Leisure also informed us that the DVD-ROM version of "Space Ace" is getting close to being finished, and that work on Dragon's Lair II: Time Warp is on schedule and making good progress. So hopefully we should see more of that title by the end of November.