SkipDoctor restores scratched CDs and DVDs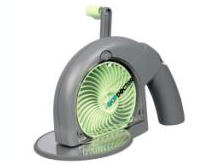 Millions of American CD and DVD lovers have discs that are scratched severely enough to cause screen freezing, loading problems, skipping and other errors. And now with the explosion of disc-based games and DVDs the problem is only getting bigger.
After more than five years of research and development, Digital Innovations now announced SkipDoctor(TM), a CD & DVD scratch repair device – and it looks as funny as it sounds. The devices is removing or repairing abrasions, light to medium scratches, dust, fingerprints and other surface imperfections – pretty much all the primary disc related causes of playback problems. The product also has a "reversibility" feature that allows it to repair deeper or more stubborn scratches that may occur from time to time.
To repair a disc, simply insert it into SkipDoctor(TM), spray it with the providedenvironmentally friendly resurfacing fluid, and turn the handle until the disc makes one complete revolution. Flip the reversibility switch to reverse the disc rotation direction and turn the handle until the disc makes another complete revolution in the opposite direction. Remove the disc and dry it thoroughly with the provided drying cloth, then use the provided felt buffing square to restore the disc to its original shiny appearance. Now, hopefully the disc is once again problem-free!
SkipDoctor(TM) carries a suggested retail price of $34.99 and is available in thousands of retailers, catalogs, and E-commerce sites across the U.S. and Canada.