More menus from Disney's upcoming animated classic just arrived!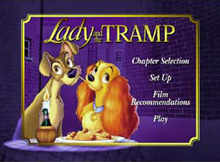 More screenshots just came in. We have just received more screenshots from some of the eagerly awaited animated feature films from Disney Home Video.
This time we are able to give you a good look at 1010 Dalmatians, Peter Pan, The Lady And The Tramp, and Lion King 2: Simba's Pride. We have prepared these menu screens on a number of separate pages for your viewing please, so please click here or on the image to the left for a tour through these colorful screenshots. They're definitely worth it.