Explore your world – with MPI Home Video's Baraka in January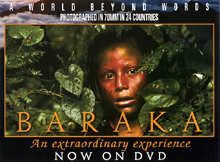 MPI Home Video has just announced an interesting title for release on January 25. Called Baraka, this inspirational film aims to show the fragility, beauty and interconnectedness of the world through images, sounds and music.
Shot completely on 70 mm film, the DVD will contain the fullscreen and a letterboxed version of the 104 minute film with 5.1 channel Dolby Digital audio track and a "Making Of" documentary.
The filmmakers of this extraordinary film spent 14 months travelling to 24 countries on six continents to capture such awesome sites as the pyramids at Gizeh, St. Peter's Square, Mount Everest, burning oil fields in Kuwait and a Tiwi tribe in Australia. "Baraka" will carry a suggested retail price of $24.98.