Disney's Tarzan is coming to DVD in all its glory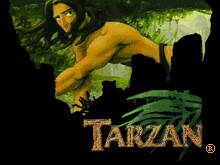 Great news for all fans of animated feature films! Although not yet officially announced by Buena Vista Home Video, we have been able to find out that Disney's latest and most sophisticated animated feature film, Tarzan is readied for release on DVD, day & date with the VHS release that will supposedly find its way into stores in early 2000.
What makes these news even more noteworthy is the fact that "Tarzan" will be 16×9 enhanced! It seems as if this title will be the first 16×9 enhanced animated film by Disney, although we have to wait and see, if maybe one of the upcoming films will have an anamorphic presentation, unadvertised and unbeknownst to everyone so far.