Disney brings two separate versions of Tarzan to DVD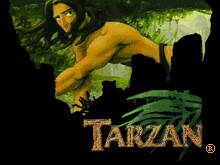 As reported earlier, Disney has now officially announced their summer animated feature film Tarzan for release on February 1, 2000.
The release will feature a number of extras, including a never-before-seen recording session by Phil Collins and guests, a Read-Along, a Trivia Game, various sneak peeks and many other features, as well as DVD-ROM accessible Internet links. The disc will carry a suggested retail price of $39.99, just like Disney's other animated feature films.
In addition to the standard DVD, a Tarzan Collector's Edition DVD, will also premiere on March 21, carrying a suggested retail price of $49.99. It will include an additional audio commentary by the movie's creators, Producer Bonnie Arnold and Co-Directors Kevin Lima and Chris Buck, and extensive bonus materials about the history and development of the film, including early presentation reels. Both discs will contain anamorphic video transfers.
Disney is also premiering another animated film on February 29 with An Extremely Goofy Movie for $29.99. Starring everyone's favorite "Goofs," Goofy and his son Max find themselves attending college together in an all-new, hip and hilarious adventure that features exciting extreme sports action, high-energy music.