Buena Vista Home Video adds titles to its December line-up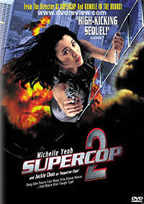 Buena Vista Home Video have just added a few titles to their December line-up. As we had announced at an earlier date already, Inspector Gadget, Mickey's Once Upon A Christmas, Shakespeare in Love – Collector's Series, Everest – Collector's Series, Eddie and Senseless are coming to DVD in December. The new titles added by Buena Vista are Rogue Trader, The Very Thought Of You and Summer of Sam scheduled for a release on December 14, and Farewell My Concubine, Teaching Mrs. Tingle and Supercop 2, which are slated for December 21. All titles will come in letterboxed formats without notable extras and carry a suggested retail price of $29.99. Please check out our release listings later today for more details on these and many other new title announcements.
We also have been able to obtain the cover artworks for selected of these titles. Please click here or on the image to the left for a look at a few of these upcoming releases.