We have some new covers from Buena Vista's November line-up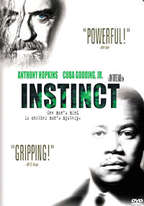 Not even details about these titles are available, as Buena Vista Home Video has not officially announced these releases yet, and still they have cover artwork for five titles from their November slate available to us.
We will give you the full details and dates of these titles as soon as more information comes in, but for now, expect Break Up, The Castle, Heaven and Life Is Beautiful to come to DVD during the month of November. The Anthony Hopkins, Cuba Gooding Jr. starrer Instinct will also be part of the release line-up, coming to stores on Nevember 16.
Please click here or on the image to the left for a look at the cover artwork of all five releases.