We have menu screens from From Dusk Till Dawn 2 and other discs for you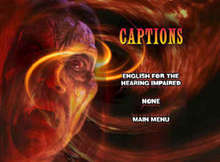 Sadly the links to the screenshots from the upcoming Buena Vista releases were broken when we posted them two days ago. Hence, to make up for this snafu, here once again is our news-splinter about these menu screens. We apologize for the problems. If you ever enounter problem accessing material on our site, please send us a brief email, to let us know. Since the site has become so big, it is almost impossible for us to keep track of every single link at any given time.

We have just received some menu screenshots for some upcoming releases from Buena Vista Home Video that we have prepared on a separate page for your viewing pleasure.
Please click here or on the screenshot on the left to take a look at a selection of these screenshots from films like From Dusk Till Dawn 2: Texas Blood Money, Quiz Show and Son In Law.
All these disc are slated for release throughout September and we're sure these screenshots will already whet your appetites.