Universal unleashes the Wolfman on DVD in November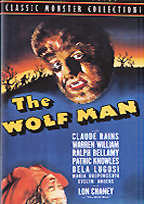 Universal Home Video has just unveiled the next entry in their classic horror line-up. On November 2, the 1941 The Wolfman is taking shape on DVD in the form of Lon Chaney Jr.
Long rare and unavailable on VHS and Laserdisc for the longest time, this excellent gothic horror film boasts an incredible cast including horror icons Lon Chaney Jr., Bela Lugosi, and Claude Rains. It is one of the most atmospheric entries in Universal's classic monster films, mostly carried by Chaney's incredibly agile portrayal of the Wolfman.
Like the other classic horror releases from Universal Home Video, this one will also feature a documentary by Universal horror specialist David J. Skal, a full length audio commentary track and the film's original trailer.
"The Wolfman" will be released on November 2 and will carry a suggested retail price of $29.98.
Universal's release of the classic Dracula is still waiting in line unfortunately. Currently scheduled to appear in December, "Dracula" will be a jewel of a DVD release, containing the original version of film,fully restored, as well as the newly scored version with a soundtrack by Phillip Glass. As if that is not enough, Universal has also decided to add the Spanish version of the film to the DVD. Please click here for more details on that release as we had reported earlier.