The cover for Pink Floyd: The Wall is here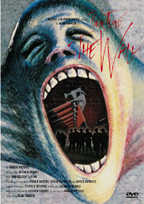 We have just received the cover artwork for the upcoming DVD release of Pink Floyd: The Wall from Sony Music for your viewing pleasure. Please click on the image to the left for an enlargement of the packaging art.
Currently scheduled for November 9 release, the disc contians a number of interesting supplements, including a running commentary by Roger Waters and Gerald Scarfe. The disc will also contain "The Other Side Of The Wall", a 25 minute documentary about the making of the film, "Retrospective", an exclusive new 45 minute documentary of interviews with Roger Waters, Gerald Scarfe, Alan Parker, Peter Biziou, Alan Marshall and James Guthrie. The package will also include the original film trailer and production stills as well as a Deluxe DVD packaging that will include four film stills printed on double sided postcards.