Take a look at the menu screens of Columbia's Night Of The Living Dead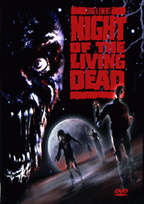 George A. Romero's original version of Night Of The Living Dead has been released numerous times on DVD already, and certainly ranks as the most re-released movie on the format in its various incarnations, like the most recently published 30th Anniversary Special Edition from Anchor Bay.
In 1990 special effects guru Tom Savini has directed a color remake of this classic black and white zombie film. It was an updated version of the same film with more special effects and gore, but following the same storyline and narrative flow. Next week, Columbia TriStar Home Video will release this remake on DVD with a few special features. A commentary track with Tom Savini is part of the package, as well as a documentary called "The Dead Walk". Production notes, trailers and biographies will also be found on the disc.
Before the disc hits the shelves next week, we are now able to present you the menu screens from this exciting release. Please click here or on the image to the left for a look at these menu screens. We hope you enjoy them.