Take a look at the main menu of the upcoming Jack Frost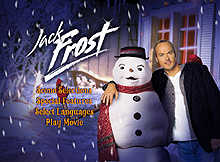 As you may recall, Warner Home Video is bringing Jack Frost to DVD on November 2. Now we are able to present you the disc's main menu. Please click on the image to the left for a full view at the actual menu screen.
It is the story of musician and forgetful father Jack Frost, played by Michael Keaton, who spends most of his time on the road struggling to get his big break, and who often must leave his lonely son and wife waiting for him at home. One Christmas, Jack realizes his priorities are reversed and he gives up a golden opportunity so that he may head home for the holidays, but he gets caught in a snowstorm, skids off the road and is killed.
The next Christmas, Jack's son builds a snowman, dresses it in his late father's hat and scarf, and plays a reminiscent song on his dad's harmonica. That night, the snowman miraculously comes to life and changes everything for Charlie and his family. In his new form, Jack becomes the father he never had time to be when he was alive and he teaches Charlie all of the things he always meant to, including that it's never too late for second chances.
"Jack Frost" will contain an anamorphic widescreen version of the film as well as a pan & scan presentation with English and French language tracks, and will also contain the film's theatrical trailer at a suggested retail price of $24.95.