Take a look at the cover of the Bug's Life Deluxe Edition with us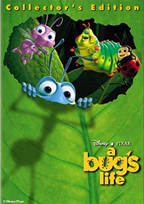 After receiving a large number of screenshots for Buena Vista's upcoming Deluxe Edition of A Bug's Life, we can now present the cover artwork for this exciting upcoming release. Please click on the image to the left for an enlargement of the package art. We also still have the menu screens from the release for you on this page.
"A Bug's Life" Deluxe Edition will be released on November 23 at a suggested retail price of $49.95 as a 2-disc set, containing the film's 16×9 enhanced widescreen as well as a fullscreen version on one disc and a great number of supplements on the second one.