Sony announces details and ship date for Playstation 2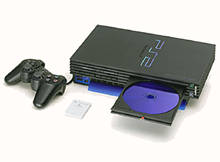 While Sega has finally started shipping its Dreamcast console here in the US to eager customers, Sony is quick to unveil the details and a picture of its upcoming Playstation 2 console, salted for a release late next year. The competition in the console industry is fierce and this announcement can certainly be understood as a direct answer by Sony to Sega's unexpected initial shipment of the "Dreamcast" console, in an attempt to put customers in a "stand-by mode" while they await Sony's next generation console that easily outmuscles Sega's current console.
Sony's "Playstation 2" will ship in Japan on March 4, 2000 at a retail price of approx.$370, and contain a number of interesting features, most notably an optical digital output. For more technical details of the console and the expected performance, please check our round-up from this year's Game Developer Conference where we had the chance to witness "Playstation 2" first-handedly or check Sony's press release.
The press release mentions DVD Video capabilities which is surprising as most members of the video game developing community had so far been informed that the console would not support direct DVD Video playback. Either way, it's certainly a good thing, although the console does not have SVHS or component video outputs which makes it a poor choice for a real DVD player replacement. Nonetheless, it will help open new markets for DVD Video content and substantially increase the formats exposure, just as DVD-ROM does.