Some new covers from other Buena Vista / Miramax releases came in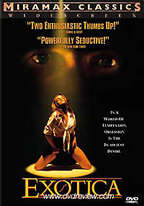 We have just received new cover artwork for more titles coming through Buena Vista Home Entertainment in November, and we have prepared them on our Buena Vista cover page. Please click here or on the image to the left to take a look at them.
Atom Egoyan's provocative movie Exotica is coming in November from Miramax. It is set in an exotic strip club and centers around three strangers – an obsessive man, an erotic table dancer and a mysterious D.J. They soon discover each other's secret passions as they become entangled in a web of jealousy, deceit and revenge.
Also scheduled for release in November from Miramax is The Crossing Guard starring Jack Nicholson and Anjelica Huston. Ever since the day a drunk driver killed Freddy's Gale's 7-year-old daughter, Gale has been consumed with grief and revenge. So, shortly after the driver, John Booth, is released from prison, Gale attempts to murder him.
The third one in the list is I'll Be Home For Christmas starring Jonathan Taylor Thomas. All three films will be released on November 9, as well as the remake of The Distinguished Gentleman.