Robert Englund: Life After Freddy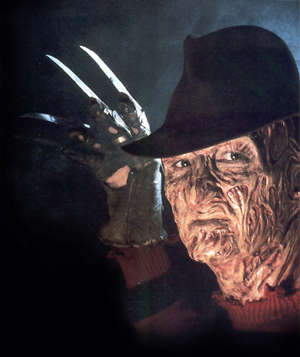 At a time when the stalker movie had been exploited to all extends and the image of mute, shambling, vicious killers had been burned into our consciousness to the point of exhaustion, a new kid entered the block.
?The year is 1984 and the time was right for a new villain in the horror genre. A villain that was agile, intelligent, almost intangible and yet gullibly vicious and no question lethal. Freddy Krueger took center stage and with him a new era of horror films dawned. This knife-wielding character reinvented the stalker genre like no other film had before or since. ?Through seven parts Freddy Krueger would haunt the descendants of the Elm Street to their deaths.
It is almost a shame that Freddy Krueger has been undiscovered by many of today's teenage horror fans. Until three years ago the entire horror genre was presumed dead until Wes Craven made his mark once again with "Scream" and its follow-ups. What many fans of these films do not know is that Wes Craven is the creator of Freddy Krueger. Just as his "Nightmare On Elm Street" films have breathed new life into the dying horror genre of the early 80s, he has completely revived  the same genre in the mid 90s with his "Scream" films. The parallels between these occurrences is simply stunning and speaks for Craven's incredible talent and creativity.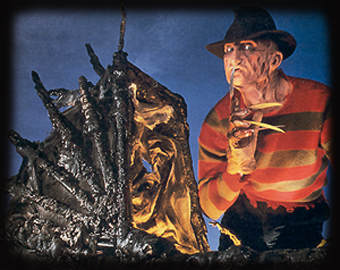 So, what's the deal with "A Nightmare On Elm Street"? Despite the mindless killers we have seen in countless installments of horror films before, from "Friday The 13th", "Halloween", "The Texas Chainsaw Massacre", "Scream" or its rip-off "I know What You Did Last Summer", Freddy Krueger has always had a few qualities that set him apart from the competition.
While other villains are restricted to real world laws of physics, Freddy Krueger hunts in people's dreams. It relieves him of any physical encumbrances and at the same time gave the filmmakers the opportunity to show and do things that had not been done before. Many of the films were milestones for the special effects industry of their time and many of the people creating these effects have since become established themselves as eminent authorities in the field, including Greg Cannom, Kevin Yagher, Greg Nicotero, Rick Lazzarini and countless others.
Freddy also had a brain and knew how to use it. As a matter of fact, to call Freddy simply a stalker is almost blasphemous. He is a hunter and he uses all the tricks of the trade to lure his victims, instead of shambling them down in dead-ends, like many of his mute, dumb and unimaginative fellows did. The lure, the fear of sleep and dreams, the spectacular deaths and Freddy's humor made the Nightmare On Elm Street a memorable and intelligent series of horror films that no genre fan can afford to miss.
Most of all however, Freddy Krueger had a face, and that face was lent to him by talented actor Robert Englund in all seven films. It gave the villain a new dimension, a real personality and Robert Englund's smooth body language helped immensely to make Freddy a walking menace. Every second of Freddy's on-screen time is an unforgettable experience that immediately gets you hooked on the series and the Freddy phenomenon that is unbroken after 15 years.

It all started on a winter night in Manhattan in 1981 when New Line Cinema chairman Robert Shaye sat down to read a screenplay by Wes Craven, whom he had met about a year earlier during a meeting with numerous genre directors. Hooked on the script and the freaky ideas Wes Craven laid out in his manuscript he decided to produce the film everyone else in Hollywood had turned down. Together with Wes he worked on fleshing out the frightening story of a madman haunting people's dreams to kill them, and on November 1984 the risk paid off big time. Lines in front of New York's movie theaters proved him and everyone else on the project right that the time had come for a new villain. It was the dawn of Freddy Krueger!
Today it seems Freddy is in for a rebirth, as New Line Home Video is just putting the final touches to a box set release. It will bring all seven installments of the "Nightmare On Elm Street" series to DVD, including one separate disc that contains nothing but supplements from these films.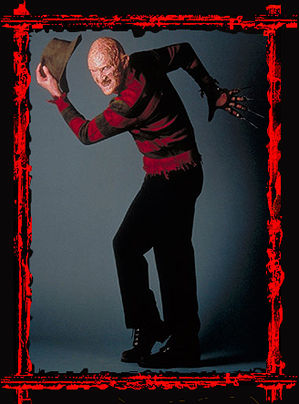 Unfortunately Robert Englund, the star who lent his body and voice to Freddy, was only remotely involved with the creation of this stunning DVD package, as he tells us. "I was busy on a movie and then went to Europe to do several Festivals. I was in a Festival with John Landis and then in another one in Rome. I did some interviews for the release, but unfortunately I missed the great party at the Four Seasons Hotel the other day."
Interestingly the first time Robert Englund heard about the project was while talking to a journalist in New York. "I was talking to a few people there and had heard that Wes was making some contributions to the release. I was then getting ready to do my part and got some calls to arrange everything. Unfortunately it got postponed after that and the next time I got called I was overseas, out of the country and couldn't really participate as much as I would have wanted to. My schedule just didn't allow me to be a big part of it."
?"I love commentaries on DVD, I would have loved to tell a couple of stories. But they got Wes' and Heather's commentary track, and that's a really great one. Wes is so smart and funny, it is a fabulous commentary. He has such a sharp mind, it is incredible. Tune into his commentary, I tell you! After all, Wes is really the birthfather of all of this and he feels very strongly about the character," Englund points out.
?"When I finally became available they sent everyone out to do the filming. We did hours and hours of Q&A  (Question and Answer) recording. The material was very well researched to touch upon things I had said in interviews long before and to prevent repetition. I felt very good doing it. I'd say something I said before, but they still loved it, and it turned out that Rachel Talalay's stories would weave in and out with those of other people."
Englund had not been able to see the entirety of the bonus materials in their final form yet as we were speaking but he mentioned that a whole new kit was waiting from him at his agent. "I'll pick it up tomorrow to check it out. I am going to LA only once a week," he mentions.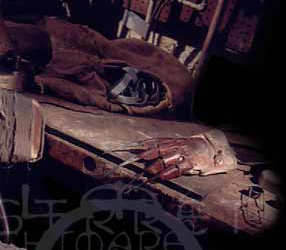 It has been some time since Robert Englund put on the Freddy Krueger make-up, the trademark sweater and is knife-tipped glove, and much of the films has become a fond memory, although the Nightmare On Elm Street films were a milestone also in his own life.?
"Just like everyone else I see these films on the late shows or on video and Laserdisc. I have to talk to someone like you to really refresh my memory. Things blur and blend over time, you know, and you tend to forget certain incidents. Strange things and the dangerous parts I remember of course. I have lists of the cast for each film and I review them sometimes, just to keep everything and everyone in my mind. The problem is I don't remember the films by their names but by their number."?"I don't have really big memories, to be honest. I remember the fire stunt, the original audition, the make-up tests and all that. When I was totally exhausted from the shoot, I remember Ronee (Blackley) would always invigorate me. Johnny Depp and I were talking about his Rock'n Roll band a lot, things like that is what sticks."
Inevitable being 'inside' Freddy gives you a very different perspective on things as opposed to a viewer who is consuming the final, finished film and as such it is hardly surprising the Englund remembers mostly things we never got to see at all.?"People like you are always well researched and that helps me remember. When you talk about other actor's stories, or something you heard from a cameraman, that is when I start recalling other stuff," the charismatic actor points out. "Most of my memories are anecdotal. You know, Mexican food outside the jail where we shot the boiler room stuff. We were out there, sharing gourmet burritos with convicts in the sunset. That's what I remember. As I said, it is hard getting all the people straight over all these parts because there were so many people I had the pleasure to work with and you really have to research and refresh things regularly to keep everything straight. Of course I remember some of them more vividly than others, like Greg Nicotero, Renny Harlin and the like."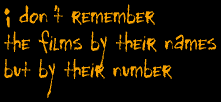 To fans these memories are intangible however, and many of them are more interested in direct aspects about the films, so Robert Englund is facing legions of fans wherever he appears, facing their questions about all the Freddy films diligently. When meeting Robert Englund in a public appearance everyone who has seen him would certainly agree with me that he is one of the friendliest and most approachable stars in Hollywood. His good nature, his hyperactive mannersims and his charismatic humor makes him fun to be around and he never seems to get tired of answering the questions of his fans.
"The fans usually keep track of all the events, too, especially those from Europe. When I am at a convention in Europe for example, they always ask me these really specific questions. Then I have to put myself in the context of that particular film, which is not easy sometimes. I am more familiar with Freddy in a general context and to answer these questions I have to get really specific. To make matters worse, I remember the parts in the series numerically and not by title. It takes me a little to remember, which number 'Dream Child' was."
When going through the original press kit for the original "A Nightmare On Elm Street" movie, which will also be included in the DVDs, the reader will notice one interesting fact. Neither Robert Englund, nor Johnny Depp were credited in these press materials, an ironic twist given the following popularity of both actors.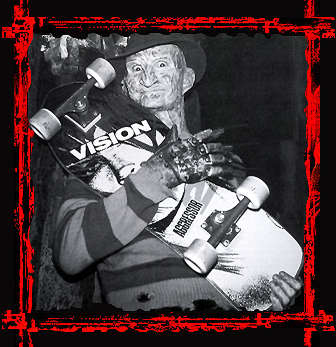 Englund remembers, "I was so busy on TV back then when the script came up, and Freddy was supposed to be this great mystery. There was never an argument over it. I was so busy at the time with "V" that billing and all that wasn't important to me." It is a character stroke that is very atypical for an actor of Robert's caliber who has had a career in many films before this opportunity came along. He also remembers that there was something else about the film that intrigued him. "I did the first film to get the opportunity to work with Wes and because of the challenge. It also fit perfectly in my schedule. The concept was so completely different from the character I was famous for at the time, and it really attracted me."
?He also mentions that he was curious on the challenge of the whole make-up thing, a first in his career, as well all the special effects that would come with the film. "David Miller's reputation preceded him at the time. 'Thriller', the music video he did for Michael Jackson, was the big hit then and I was anxious to work with him too."
"And then, Freddy took off!" he excitedly remembers.
One of the biggest challenge when bringing Freddy Krueger to life was how to present this furtive nightmare creature. According to Miller's recollection Wes Craven always wanted a look that had teeth showing through the flesh with burned skin that is pulled tight with parts of the skull showing through the skin. It would have been impossible to achieve with a live actor. After numerous sketches and five different sculptures Wes Craven and David Miller had found the perfect look for the child molestor that would become iconic. Because the makeup would be very apparent in bright or medium light, Miller requested that Freddy stayed mostly in the shadows not to break the illusion.
Robert Englund vividly remembers how experimentation was a big part of the schedule during the shoot of the original "A Nightmare On Elm Street". "The challenge during the filming was pretty hands-on technical," he explains. "Freddy was a catalyst at the time and we did a lot of experimenting. They weren't sure how to light the make-up exaclty. There was always the question, would it look phony? Would it work or look fake? The biggest difference to many other horror films of the time was that usually you light for young beautiful stars. Here they expected me to step in their light. So what happened was that in the end, Freddy determined the light and everything else was arranged around that. Robert Shaye was very concerned about Freddy. Especially in the first part he has this dripping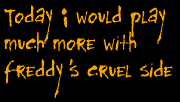 look and pieces of flesh hang around. Because we were concerned about the grossness in the film we started discussing backlighting him. In the end it turned out that the shinier Freddy was, the better he looked. Still it was a long way and we all learned a lot during that shoot. At one point the make-up had too much red and they had to tone it down. It was all about figuring it out as we went along every single day," the actor reveals with a chuckle.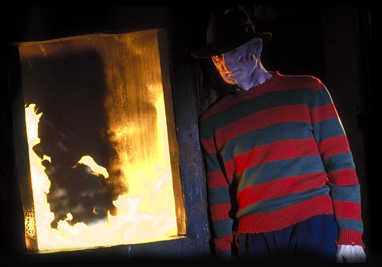 One of the most intriguing things when you get to meet Robert Englund is the fact that he is a very gentle and charming person and it is very hard to imagine he played the sadistic serial killer Freddy Krueger. "Part of it happens when you go from Laguna Niguel to Los Angeles," he jokes after learning that I am living only a few blocks away from his house in Southern California, "and you get stuck in traffic. You know how that feels, right? There's this person that comes out behind the wheel all of a sudden. I put that together with the real thing in Nightmare 1 to create this evil personality. At the time I started to get a little older and there were long hours on the movie and the make-up took many, many hours to put on, and then many hours to remove," he carefully elaborates.?"So, you sit there and you see all the kids on the film. They were all so young and beautiful, one of them wasn't even old enough to grow a beard. I became the fatherly older brother on the set, and I admired and envied them because they were all at the beginning their careers. They were tampered and taken care of all the time, their hair blow-dried and they got their mascara put on very carefully, and here was I with my latex appliances. I turned that experience and those feelings into a practical acting exercise during the film. After hours in the make-up chair I could really use that," he laughs.
Despite that the atmosphere on the set has always been a healthy and pleasant one. "We all talked a lot and they trusted me when I needed to get a little rough for the shoot. They forgave me and they didn't mind if I hadn't brushed my teeth because of the make-up, and had food sticking in my teeth. Finally when I roughed Heather up during the shoot, it was actually their turn to envy me and they forgave me, just like I did," Englund explains with a grin.
One of the general fears throughout Hollywood is being typecast. Through Freddy's popularity and recognition, it begs the question of Robert Englund has ever had problems with the fact that most people see him as Freddy Krueger despite the fact that he has appeared in over 60 movies and 20-something TV shows.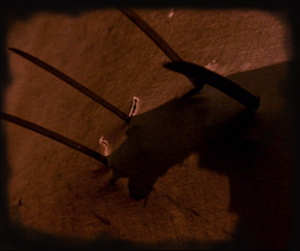 "I think there was a certain amount of typecasting, yes. But I also worked with a great number of people from Arnold Schwarzenegger to many, many other people. By the time I did get typecast I've been around for years and yet, no one really knew my name. The recognition was low.
The good thing of Freddy was that it became an international success. Now I have the chance to go to Europe many times a year as a result of Freddy. I am invited as a guest, a juror, or a judge in various Festivals since 1982," he tells me.
?"This year I'm going back to Europe for the third time this year alone as a DIRECT result of Freddy. People have great, fond memories of Freddy and the films. It's like the reunion of Kiss, or Aerosmith. They're allowed to see the forbidden fruit, and they have Argento, Bava and other great filmmakers. It is very fascinating," he continues in his animated, good-humored nature.
Robert Englund has a healthy relationship with Freddy it seems when he says, "I can't complain. The typecasting comes with the territory I guess. I was typecast before Freddy as a Southerner, then I was the best friend, the sidekick, and eventually you just deal with it. If I go down in history as a genre actor, I am totally at peace with that."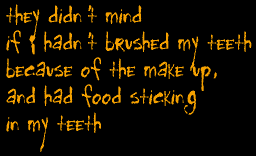 "Freddy was very good to me. It all happened at the right time. I was 34 then, and I was very pleased. Pleased with economic benefits and celebrity that came with it, but I also enjoyed the ride with friends like Mark Hamill, and others. You try to float this organic whim of show business. I knew all the while that it's all part of the game."
After having a healthy distance from Freddy Krueger since he last appeared in the part in "Wes Craven's New Nightmare" in 1994, Robert Englund has had quite a bit of time, pondering Freddy, his success and the failures in the series. When I ask him how he sees Freddy today as opposed to then, he gets quite anxious and excitedly fills me in on his feelings about the character.
"Film is a collaborative art form most of the time," he starts. "I have thought about this a lot. If I directed one, I would play much more with Freddy's cruel side. The way he exploits fears is great. If someone is afraid of bugs, he turns you into one, only to smash you. If you're afraid of heights, he exploits the vertigo. But there needs to be a better balance of the cruelty and the humor the way I see it today. In the context of the time it was okay. We were working with really brilliant crews who were exploiting technology, using it in a logical way for the dream sequences."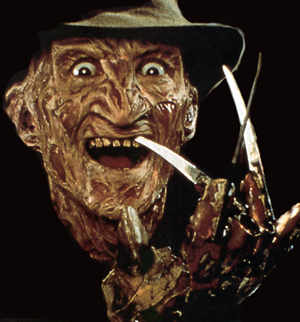 "I really don't want to second-guess anyone," he continues without catching a breath. "But I would have probably stressed Freddy's cruelty more. There was a great scene in Nightmare 4 (The Dream Master) with the young Afro-American in the junkyard at the beginning of the movie. I stab him. During the shoot I gave him the kiss of death and I thought it was so appropriate, but the scene didn't make it in the movie. The thing about Freddy is that there's got to be an edge to it. Always has been. When we were making these films we always went with the current pop culture, always featuring the latest jokes and quips. I would change that today. I would diminish them and instead use them as accents a little more," Englund observes.
He also tells me that Wes Craven and he had a slight disagreement about the origins of Freddy's comic side once, which resulted from the actor's understanding that it came from Wes Craven's particular sense of humor. "In later films of the series, this was exploited much more than it should have been," he adds, "mostly because the fans wanted more of it. It was easy for the editor to add the one-liners later, even when the film was cut, but it's not always the best choice. It dilutes the horror, which turned out to be one of Wes' biggest grievances. And I got off with that because I always thought from part one that it is what Wes wanted."
This disagreement was actually part of the reason why Wes Craven returned to the Elm Street franchise for the celebrated eighth part called "Wes Cravens New Nightmare". He wanted to put a new, more adult oriented spin on Freddy that was much more aligned to what he had always envisioned. On an interesting sidenote, this film has actually been renamed to "Freddy's New Nightmare" for distribution in some European countries, defeating Craven's purpose to an extent.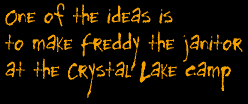 It all seems almost contradictory considering that Englund will put on Freddy's make-up the next time in "Freddy vs. Jason", a film fans have been waiting for forever and that almost begs to be comical in nature.?
"Freddy vs. Jason sounds comical," he explains. "But (producer) Michael DeLuca goes to great lengths to get the script where he wants it. I am hoping that it will help the overall balance. The new writer on the project did the first draft for 'The Mask'. It is a great film that really made a difference. It turned a corner like 'The Blair Witch Project', and I think these things need to be embraced."
?Explaining the current status of the project he says, "All I know is that they're waiting for a first draft at this point. I am really looking forward to that, and then we'll go into early pre-production. I might be doing a little bit of stuff, screen tests and so in September. Currently we are working towards a Summer 2000 release date. As I say, there's no final script yet, but I heard some really interesting stuff about the story and how they tie Freddy and Jason together. One of the ideas is to make Freddy the janitor at the Crystal Lake camp and so forth. I am sure it will be fun" he says enthusiastically.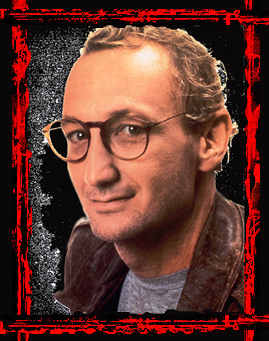 In an interesting twist, the third part of the Freddy franchise, "Dream Warriors" was actually directed by Chuck Russell, who would later go on to direct "The Mask". "Dream Warriors" is arguably the series best installment next to Wes Craven's original and Englund has a very special relationship to this film.
"I find myself defending part 3, Dream Warriors, a lot," he remembers, "but I think with 'The Mask' Chuck has been vindicated after all. One of the reasons why 'Dream Warriors' was so good was because he came up with this idea of using teens as neurotics. Freudian adults so to say, which was very interesting and very different. A lot of boys rediscover Freddy these days and it turns out they love parts 1, 3 and 4 the most it seems."
Before he goes on to shoot "Freddy vs. Jason" the restless actor has been busy finishing up some other work. "Over the past weeks I was working on a new snake movie with Casper Van Dien up in Malibu, for a film called 'Python', imagining a giant CGI snake. It's going to be a real popcorn movie. The animals are back. You got your sharks and your alligators, and here we come with another snake movie," he says laughing.
To me there can be no doubt, when the Nightmare on Elm Street box set is being released, legions of fans will devour the films and the material that had never before been available. And without a doubt Robert Englund will be one of them, sitting through the films and the bonus programming, exploring and remembering the work he did on each one of them. I too, will think of him when I put in those discs and remember how this great actor has created one of the most memorable villains in horror history, assured that new generations will now get the chance to see him and learn to fear the character he has so uniquely brought to life.