MGM Home Entertainment pulls out its list of December releases for us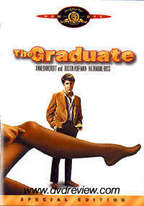 MGM Home Entertainment has just made some information available to us regarding their December release line-up, all slated for a release on December 7.
The list starts with a release of the long awaited The Graduate, featuring a rare 20-minute interview with actor Dustin Hoffman as well as a 45-minute documentary on the making of the film. The release will include the film's widescreen and pan&scan transfer, and English and French language tracks at a suggested retail price of $29.98.
MGM is also releasing Mike Nichols" Carnal Knowledge with Jack Nicholson and Candice Bergen, and The Falcon And The Snowman, starring Timothy Hutton and Sean Penn in early performances, on December 7. Both discs will contain widescreen and pan & scan presentations of the films, as well as English and French language tracks.
Further, MGM is re-releasing Dead Man Walking and The Usual Suspects, films they have takenover from the Polygram Film Library. Both films had been previously released by Polygram and are now re-released with the same features, including the commentary tracks.
These discs will carry a retail price of $24.98 and include the obligatory collectible booklets and trailers. Please click here of on the image to the left for a look at the covers of these exciting releases.