Madacy Entertainment to unleash another series of box sets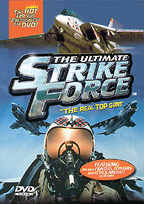 Madacy Entertainment is currently preparing another number of box sets that should be shipping as we write this, according to the company's information.
Killer Instincts is a 2-disc set containing "Anaconda, Giant Snake Of The Amazon" and "Piranha, Wolf In The Water". Both titles have a running length of approximately 55 minutes.
The Secrets Of The Bible Code is a 2-disc box set, containing a factual, scientific account of the true discovery and how it began. Few things have ignited people's imagination like the recent discovery of encoded information in the Bible that could only be discovered with the use of modern computers. Both box sets are priced at $14.98
The Great Events Of Our Century is a 5-disc box set takes you through some of the most profound and wide-reaching changes of any century in human history. The titles of the discs are "Disaster" and "Freedom", "Politics Of Violence" and "Death & Glory", "Fame" and "Obsession", "Scandal" and "I Am The Greatest", and "Legacy" and "Into The Unknown". Each disc has a running length of approximately 120 minutes.
Animals In The Wild is the title of another 5-disc box set, showing you the animal world like you have never seen it before. The discs are grouped into topics, titled "Fangs And Claws", "A Walk On The wild Side", "Cries In The Wild", "Amazing Habitats" and "Animals Undercover". 5-disc box sets are priced at $49.95
Things then heat up with Top Guns, a 3-Disc box set that allows you tot take flight with 25 of military aviation's top pilots to identify the best fighting aircraft of all time. The set is containing the discs "Fighters", "Bombers" and "Attack Aircraft".
Firepower 2000 is another box set, displaying the latest in modern high-tech weapons systems along with commentary from military experts. The discs included in this set are "High-Tech Battlefield", "High-Tech Navy", "Fast Strike" and "Digital Dogfight".
The Ultimate Strike Force is a single disc that takes you to the skies with today's most lethal jet fighters. Take flight with the Lockheed Martin F-16, Fighting Falcon, Saab JAS.39, Eurofighter Typhoon, F/A-18E Super Hornet and the new, never before seen Russian S-37.
All discs from these box sets are also sold separately at a suggested retail price of $9.98 each.