Intel Japan introduces the next generation of PCs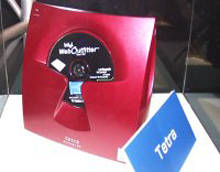 I have seen the future and it is red…
Well, sort of… Intel Japan has just unveiled an new computer generation at the World PC Expo 99 near Tokyo, and people have gazed upon it in wonder. As you can see from the picture, this PC looks like nothing you have seen before. It almost seems as if it is a calculated answer on Apple's iMac to produce a computer that is easy to handle and easy to use. The name Easy PC nicely reflects this attitude as well and with its futuristic look this computer could clearly become a run-away seller in no time. Four machines have been announced as part of the "Easy PC" line, the Yaquina, Tetra, Twister and Function. Yaquina is Intel KK's first prototype. Tetra is the one shown in the photoholds a CD-ROM, like a convertible car without a roof. Twister has a tower shape and Function is orange in color and has a handle and a stand. All of these should come with a display.
Unfortunately no technical specs are available at this point, and it is unclear if these machines will ever make it to the US or will be limited to the Japanese market. Let's wait and see, but if they arrive, they will hardly be overlooked, so much is clear!
Another very intersting new PC design comes from Taiwan where Tsann Kuan Ltd. is creating EUPA a desktop PC with a LCD panel featuring a skeleton body similar to the iMac. It measures 9.1cm deep and weighs only 4.5kg (9 pounds). It has a handle in the rear side so that a user can carry it around easily.
The unit's dedicated start button on the front side starts playing a music CD, without starting the Windows operating system. It is equipped with a 15-in. TFT-LCD display panel, 466MHz Celeron microprocessor and 6.4GB hard disk drive. The price in Japan will be set at around 250,000 yen. It will be marketed in January 2000. (111.21 yen = US$1).
How come Asian countries always get those gadgets first?
On the more esoteric side, Sony exhibits a new PC at the World Expos show that could be described as a consumer-harddisc-recording system. Designed to duplicate Audio CDs out of the box, and to record radio transmissions – yes, the PC has a built-in FM receiver, including a text display and an amplifier – oh yes, and a DVD drive of course. So, let's call this thing a multimedia station for the lack of a better word. Is there any sensible use for it? Maybe not for me, but whoever is completely into media and needs to record anything that is around will certianly appreciate this package.