Here are some pictures and info from the new Wizard Of Oz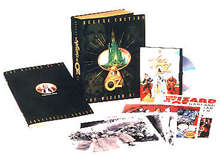 60 years ago, on August 15 1939, one of the best family films of all time opened at the Loew's Capitol Theatre on Broadway, The Wizard Of Oz. Directed by Victor Fleming, who had also directed "Gone With The Wind", the film's Dorothy was played by a little girl qho would quickly become one of the world's greatest entertainers, Judy Garland.
To celebrate the 60th Anniversary of the film, Warner Home Video is preparing a special edition of the film for release on DVD on October 19.
As we had reported from the VSDA showfloor earlier this year already, the DVD will contain the digitally restored film with a new 5.1 Dolby Digital soundtrack, as well as theoriginal mono soundtrack. Supplements are manifold, such as a documentary hosted by Angela Lansbury, interviews with stars Margaret Hamilton, Ray Bolger and Jack Haley and additional unseen trailers and outtakes from the original recording sessions with the entire cast, including Buddy Ebsen as the original Tin Man. You will also find excerpts from the previous incarnations of Oz, the 1914 and 1925 silent films and the 1933 cartoon version, an extensive photo gallery and special effects stills, plus original sketches and storyboards, costume designs and make-up screen tests. To round the package up, the disc will also contain photos from the original Hollywood premiere of the film and a look at the making of the then state-of-the-art tornado. All in all there will be 107 minutes of extras on this disc – more than the actual feature film at 101 minutes.
Like with a number of other recent Warner releases, there will also be a Deluxe Collector's Edition available that includes a reproduction of the original script, rare prints of still photos, color theatrical poster reproductions, all wrapped up in a deluxe gift box. Please see the picture above. But we also have a menu screenshot from this upcoming release for you. Please click here to take a look at the disc's main menu, and if you are still interested in more information, details or photos, stop by Warner's Official The Wizard Of Oz Website which has opened its doors recently.