Anchor Bay Entertainment gives Army Of Darkness a make over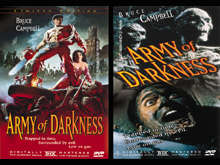 Army Of Darkness is coming to DVD, yes by now everyone should have heard the message we started spreading months ago, but hey we have been able to obtain the hottest properties in town once again, exclusively for our readers. As the release is coming closer, the disc is currently slated for an October 12 release, we have been able to get an exclusive look at the disc's packaging.
Like "Night Of The Living Dead" and "Halloween", this film will come in two separate versions. One of them, a release featuring the theatrical cut in a 16×9 enhanced widescreen transfer in its original 1.66:1 aspect ratio and a pan&scan THX certifiedversion of the film. The other one a cool 2-disc box set, featuring the same disc, plus another one featuring the film's international 96 minute cut, also in 16×9 widescreen format in a limited 30,000 unit edition.
The release will also contain a 5.1 channel Dolby Digital soundtrack, the film's original ending, the theatrical trailer and an exclusive behind-the-scenes featurette "The Men Behind The Army", narrated by Bruce Campbell himself. It covers the KNB effects team and their work on "Army Of Darkness". It will showcase the undead horse, the skeleton suits and much more. The coolest thing will be 4 never-before-seen deleted scenes however, with a running length of almost 20 minutes, as well as the original storyboards, an extensive still gallery and talent biographies.
Last but not least, the set will also contain a commentary track with Bruce Campbell and Sam Raimi. Because they are at great odds with Universal for cutting the domestic version of the film, Bruce and Sam refused to record a commentary track for the 86 minute. Instead they sat down to talk about the film's original version in a full-length commentary track on the international 96 minute version.
Getting high quality material for this international version wasn't easy, and as a result 91 minutes of the film came from one source, while the remaining 5 minutes had to be taken from a different print that came from another source. And you thought creating a DVD is simple…
For the 2-disc box set, Anchor Bay has decided to use the well-known theatrical poster as key art for the packaging, but the single-disc release features an interesting alternative artwork, showing Bruce's gooey face and two skeleton warriors. I had not seen that one before, but I think it is great shot as well.