York Entertainment reveals the cover of Kolobos and more company information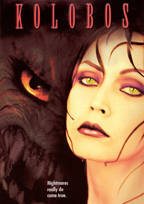 After recently announcing Kolobos an edgy horror film for release on DVD on September 28, independent publisher York Entertainment now sent us the film's cover artwork for your viewing pleasure.
York Entertainment and their Maverick label also announced that they are now committing to day & date for DVD on ALL their future releases, starting immediately! York Entertainment is currently working on a release schedule of 45 films and is in production of six urban/action features to satisfy the increasing consumer demand.
"Kolobos" will come in its uncut widescreen version on the DVD with a full-blown 5.1 channel Dolby Digital soundtrack. The disc will carry a suggested retail price of $24.98. We will keep you posted as more information on this and other titles from York entertainment come in.