We have the menu screens from New Line's The Corruptor for you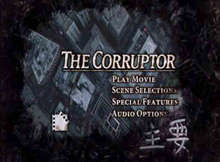 New Line Home Video's The Corruptor is hitting DVD hard on September 14. It is a gritty cop thriller where a group of agents in the Chinatown district have to deal with the dangers of their everyday lives on the streets among gangs and mobsters. Starring Hong Kong superstar Chow Yun-Fat and Mark Walberg, this film by director James Foley is fast and furious, and will have you sitting on the edge of your seat.
Coming as a New Line Platinum Edition, The Corruptor includes a number of extras, such as a commentary track by director Foley – with a good rant against the MPAA rating system that forced him to tone down the gunplay and violence in the film a good deal.It also contains a "Making Of" documentary, music video and biographies, together with some DVD-ROM content, such as the film's entire script.
Now, we have been able to get screenshots of the menuscreens from the release for your viewing pleasure. Of course we will also bring a full review of this great film to you within the next days, just in time for its release!